PALATIN MEDIA AND CONTENT MEDIA CORPORATION SIGN FIRST GLOBAL DISTRIBUTION PARTNERSHIP
LAUNCHING HIP-HOP EVOLUTION AND BETWEEN TO INTERNATIONAL MARKET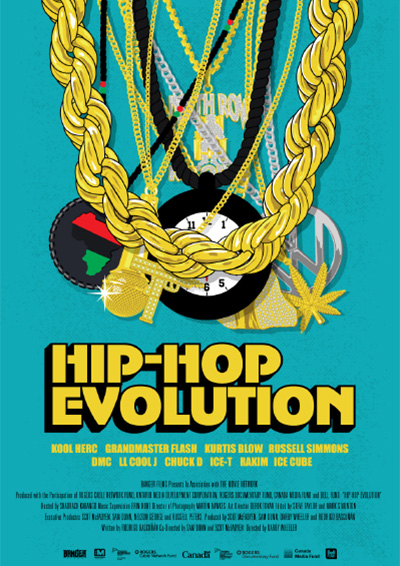 Munich/London, 11th October 2016 – Bernd Schlötterer's Palatin Media and Content Media Corporation have established a new partnership, working together to source and acquire shows as well as to co-distribute in the international market. Their first joint campaign includes Banger Film´s Hip-Hop Evolution, a 4-part high end documentary about the foundation and evolution of Hip-Hop music for TMN/HBO Canada, and Netflix thriller Between.
Hip-Hop Evolution, the new 4 x 60' series from the award-winning Banger Films, will launch at MIPCOM. In Hip-Hop Evolution, produced for TMN/HBO Canada and directed by Darby Wheeler, acclaimed rapper and journalist Shad Kabango sets out to uncover the foundations of hip-hop music and its evolution from New York house party experiment to one of the most dominant sounds in music. Delivering a compelling blend of exclusive interviews, archival film and music, Hip-Hop Evolution follows Shad as he meets the DJs and MCs who set the template for all to follow, including Kool Herc, Afrika Bambaataa, Grandmaster Flash, Ice-T, De La Soul and DMC. Along the way, Shad realizes that hip-hop's success is only part of the story: from the boroughs of NYC to the ghettos of LA and beyond, it created a new voice for the disenfranchised.
Scot McFadyen of Banger Films stated, "We're excited to be working with both Palatin and Content on getting this important project out to the world. Hip-Hop has become a global phenomenon and this documentary series is the first to focus on its inception. We wanted to make something that appeals not only to fans of Hip-Hop but fans of music in general, and I think we succeeded."
Hip-Hop Evolution is produced with the participation of Rogers Cable Network Fund, Ontario Media Development Corporation, Rogers Documentary Fund, Canada Media Fund and Bell Fund.
Also set to be showcased at MIPCOM is the 12 x one-hour sci-fi drama series Between, a DCTV & Mulmur Production for Netflix. Set in the idyllic town of Pretty Lake, this compelling thriller explores the unpredictable power vacuum that results when, after a mysterious virus kills everyone over 21, the government puts the town under quarantine. Cut off and under siege, the town's remaining inhabitants are left to fend for themselves – all while dealing with the fear that whatever caused so many deaths may return.
Bernd Schlötterer, Founder of Palatin Media, commented, "Greg and his team at Content Media share our values and ambitions on delivering strong content to broadcasters and platforms around the world. We're very pleased to partner on the distribution of Hip-Hop Evolution and Between in what we are expecting to be the first of many successful collaborations."
Greg Phillips, President of Distribution at Content Media, added, "In this ever-evolving business landscape it's increasingly beneficial to work together and share expertise and experience to maximize the international potential of content. From sourcing globally-relevant programming to providing impeccable customer service, I'm confident that we will make a very effective team and I look forward to working with Palatin Media on the first joint campaigns."